Albums
Breathe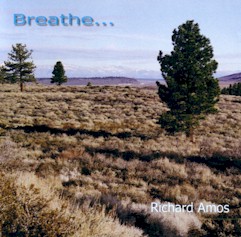 'Breathe' is the third album from modern British composer Richard Amos and was produced in London during 2004 at Richard's Private Studio in London.
The tracks marked * are now featured in the online compilation album 'Electronique: Retrospective' and are now available to buy as downloads from the main music sites like   
                                                  iTunes.
Listen to album samples;
> back to top
Press release
The album is a collection of 13 tracks fusing mainly electronic, chill out, pop, dance, new age and classical influences. There is also an extra dance remix of 'Dreamer' and an instrumental version of 'I See You' on the album.

'Some of the music and songs were written years ago such as 'I See you' and 'French Dream' but had never been produced while other tracks like ' Dreamer' and 'End of the Tunnel' are much more recent.
'The album is a real mix of music but I still feel it has a coherent approach. With 'Breath' I believe I am finding more of my own voice in the music and production - though the obvious influences are still apparent; Vangelis, Jarre, G.Michael, Eno, Tiesto, Morricone etc...
I really wanted to make a diverse album that is rich with music and the endless possibilities within music and I hope listeners agree?
There are songs, big melodies and themes, classically inspired tracks, trance, ambient and more experimental tracks..
For 'Breathe' read 'Live' and 'Life'.. rich with possibilities.......
> back to top
Reviews
Review by Bill Binkelman
http://www.windandwire.com/jun05/breathe.htm
I'm of two minds when I evaluate Richard Amos' newest CD, Breathe... One part of me thinks it's great that he has branched out from his cheery synth-pop instrumental motif to include more drifting ambient/new age floating soundscapes. However, I also miss the catchy and "fun" tunes that made previous releases Dancing in the Desert and Tears and Joy so enjoyable and easy to digest. Which is not to say that Breathe... is difficult going. Far from it, as the tunes here frequently float on waves of soft warm washes of synthesizers, somewhat akin to artists like Liquid Mind. And the bouncy rhythmic synth-driven EM magic is still here on a few cuts: the rave-up title track and its re-mix as well as the frenetic quasi-Berlin tune "End of the Tunnel." There is also a subdued but still rhythmic slice of retro EM meets electronica (the somewhat somber "Computer Feeling"). However, the main thrust of the CD focuses on Amos shifting gears into a more dreamy blend of floating ambient/spacemusic and warm "classic" electronic new age music.
From the hushed chorales of the opening "Open Sky" which hover over smooth washes of keyboards in subdued dramatic fashion, to the aptly named "Float Away" (which evokes the strongest comparison to Liquid Mind, as undulating waves of chorales gently drift across a pale blue sky), Amos must want his listeners to calm down and relax, which you will doubtless feel compelled to do when listening to the CD (e.g. the warm whooshing spaciness of "In Too Deep" or the neo-classic/new age stylings of "Lionheart" with lush strings and synth woodwinds). In addition, Amos also mixes in some piano-led instrumentals, featuring the acoustic keyboard and some synth accompaniment, e.g. the nostalgic, reflective "Leaving" and the romantic "French Dream." On the downside, he also includes two outright vocal tracks ("I See You" and the title track) plus one that incorporates spoken-word vocals as a sort of "narration" to a new age style soundscape of floating synths and the sound of waves crashing on the beach ("Talking in my Sleep"). If you like overly earnest lyrics and singing, along the lines of Gary Wright's album Dream Weaver, you won't object to "I See You" and "Breathe." Personally, I program them out of the rotation or hit the "skip forward" button when I play the CD. I seldom, if ever, question why an artist does something like this, so I'll leave it at that except to state that I feel the album would've been better without them.
That criticism notwithstanding, Breathe... amply demonstrates Amos' considerable talent for a more fluid style of spacemusic/ambient compositions, moreso than I would have suspected. Once I got past my disappointment (based on my fondness for Dancing in the Desert), I appreciated how skillful he was at these other genres. I'm grateful he included some of the "old stuff" along with the new types of music, because he's near the top of the heap in the subgenre of lightweight but thoroughly enjoyable synth-pop EM instrumentals. I have no problem whatsoever recommending the album to new age music and spacemusic fans, provided they realize they are not getting an album that is consistently in either genre. Rhythmic EM lovers will find less here to indulge in, but many people who like beats also enjoy rhythmless synths too. The vocal tracks are a matter of individual taste, so take 'em or leave 'em. In conclusion, there's no sense denying Amos' talent. The man can play a mean keyboard, whether he's floating through space or riding a bullet train across Europe!
> back to top
http://web.onetel.com/~d_bebbington/breathe.html
After another two/three year gap between albums, independent new age musician Richard Amos offers us his third album Breathe. In a review of his debut album Tears and Joy I commented that I'd like him to further explore ambient/spacemusic themes. Well, he's done just that on this latest offering; in a sense it's a refinement on the previous two albums, but with the addition of some vocals tracks. The album is Richard's longest yet with fifteen tracks, of which the last two are a remix of a prior track and an instrumental version of one of the vocal tracks. There's a variety of moods throughout the album, ranging from sadness and introspection to outright happiness. The way those moods are delivered gives the album a personal aura, something it has in common with his first two albums.
Imagine walking to the brow of a hill to have vista of a lush green landscape and a big open sky - perhaps with lovely hues of colour on scattered clouds as the sun starts to go down. That's what went through my mind on playing the first track "Open Sky" where airy synth chords sail on by and waves of glistening and vaguely vocal sound hail a welcoming aural panorama. In the second track "Dreamer" the mood goes straight into joyousness. Reminiscent of the upbeat tracks on Dancing in the Desert, but sounding more modern and polished, this piece gets your foot tapping with bouncy and happy rhythms and melodies. Initially pensive then thoughtful synths gets the third (and shortest at two minutes) track "Reflect" underway. A piano plays out a reflective melody, solo in parts and sometimes with almost vocal sounding synth pads.
My two favourite tracks are quite disparate in style. In "Float Away" we are treated to floating/drifting ambience as layers of gaseous chords serenely glide around like different types of clouds. In contrast, "End of the Tunnel" begins with piano notes musing and sounding echoey like it's being played in a big empty room a corridor away. This doesn't last for long though, an intense synth pop tune soon strikes up with an infectious rhythm and swarming synths. Later on the piano comes in again for a quiet interlude prior to the piece continuing on in a lively fashion.
There's no denying that Richard has improved his sound on Breathe, though the vocal tracks are really not my cup of tea (they became a little grating after a while) they can easily be skipped. The album hangs together well considering the variety of emotions in spans, and so it gets my recommend
> back to top
Review by Serge Kozlovsky
To be oneself
And be enjoying life
What can be more sophisticated than it is?...

This album resembles a parti-colored carpet of wild flowers when you are going through boundless field and around you, where've you look there is a blossoming of the spring saturated with heady delicate aroma which turn your head a little bit. This multi-colored florescence and spring warmth fill you with an elation and optimism, spur to go on living and enjoying a mere fact that you exist and there's the world around you which is full of surprises and striking events. What more can happen to you? But you are looking forward to it without fear, quite the contrary you are foretasting new adventures and good news...
At first glance the music of the "Breathe..." album strikes as eclectic and miscellaneous. The album includes lyrical new age tunes ("Open Sky") and energetic electronic themes ("Dreamer"), and pop songs-ballades ("I see you"), and even fiery dancing remixes. But when you lend an attentive ear to Richard Amos's music you come to realizing that there is something common in it. It is imbued with joy and optimism. There is no place for melancholy and light sadness in it. And its seeming unlikeness enables you to enjoy in full this surprisingly beautiful bouquet which the composer gives you as a gift.
While listening to "Breathe..." we become aware of a constantly changing composer. The calmness is alien to Richard Amos. He is in a persistent search and Richard Amos enables us to follow him and participate in this search. And all compositions of different styles are united with one more common feature: all of them are very melodious. At the same time Richard Amos's music is live and modern. Therefore the album "Breathe..." is worthy to be defined as an outstanding specimen of the modern music.
If you are sick and tired of being sad and suffering from misunderstanding and monotony of the world that surrounds you, you ought to find this album. Once you switch Richard Amos's music on you feel as if you take away the dark glasses that make you see outward things in black-and-white colours. And the wonderful parti-colored world full of whimsical, unseen up to now colours appears before you. It was constantly here, before you, and you just need to see it... Just to take away the scales from your eyes...
There is some incompleteness in the music of the "Breathe..." album. So much the better: we'll be waiting for a forthcoming continuation of a creative search of Richard Amos – a talented composer of our time!
It makes no sense of speaking
To a fool who damns the world,
Whose heart has no place for love.
His game hasn't yet been over
Leave him alone...



Translated by Tatyana L. Permyakova.
> back to top